Door hanger printing
Door hangers are noticeable prints commonly placed in home or office door knobs. They're widely used in hotels as do-not-disturb and room-cleanup signs. Door hanger printing can also be used for marketing purposes, and are ideal for restaurant owners, home service businesses and real-estate. The promotional tools are infinite, whether you are advertising a business to new customers, or special events. You can use business door hangers as a advertise of your brand, products and services.Custom door hangers are full color on both sides with high-gloss or matte laminate.With your options of the waterproof sturdy 30mil, or flexible 15mil will withstand the elements and provide a professional look that is sure to distinguish you from the competition.
Print door hangers
Print door hangers are are a great way to get your business's name out there easily and efficiently. If you are a local business looking to take advantage of neighboring apartment buildings or residential areas, door hanger printing and distribution is the way to go. You can easily send someone out to hang these on the doors of individual apartment units, hotel rooms, homes, and even places of business. Durability is something you will need to consider when looking for door hanger printing services. Our custom door hangers are durable and water proof. With custom door hangers, you can reach entire communities with information about your business, product, or service.
Custom door hangers
Use custom door hangers as a pre-launch item with a eye-catching logo and slogan on one side, and a release date, contact info, and map on the other. If you are promoting a new fitness center, you could include images of people working out along with a free trial offer. Incorporating a deadline into an offer gives potential customers a sense of urgency. When someone walks up to their door and sees a door hanger the natural reaction is to remove it and read it before going inside. Make sure that yours stands out with simple marketing messages, bright colors, and a beautiful finish. Even if the custom door hangers doesn't reach the ideal client, that person may remember the messaging and be a great referral source. Use door hangers to create interest for businesses such as:
We make it easy for you to attract immediate attention to your business with our door hanger printing. Simply download our templates with the correct design specs, file size, bleed, trim marks, and color profiles.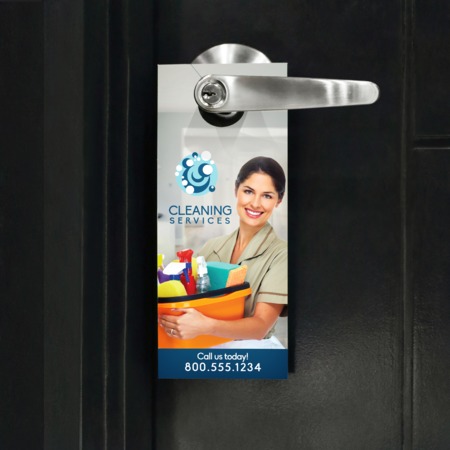 Doorhanger templates

If you would like our artwork department to create custom door hanger design,
please contact us. Artwork service is free of charge.
Door hanger printing price:
Qantity / Price

500

1000

1000+

Plastic door hanger
3X8"

$590

$690

Contact sales

Paper door hanger
3X8"

$249

$349

Contact sales
Quality cards printed quickly for you by our friendly experts


Order Now!
>>INSTANT QUOTE
We are now shipping our cards to many countries worldwide.
Using the online track & trace system you can monitor the progress
of your shipment no matter where you are in the world.