Metallic ink
As CMYK colour can not represent real gold or silver color, so we have to use special metallic ink with gold or silver powder to make the gold more golden. Metallic ink is unique ink with great reflective metallic fragments that develop a sparkle and gloss you will not see in basic offset printing inks. Silver/gold metallic ink card is the most typical, however metallic ink additionally come in intense blues, dynamic purples, warm reds and burnished coppers. Unlike metallic foil stamp, metallic printing has no limitaions for designers mind, it can be used to print complex image like individual portrait. The metallic ink provided by plasticcardonline.com is the best solution for complex image with real gold and silver color.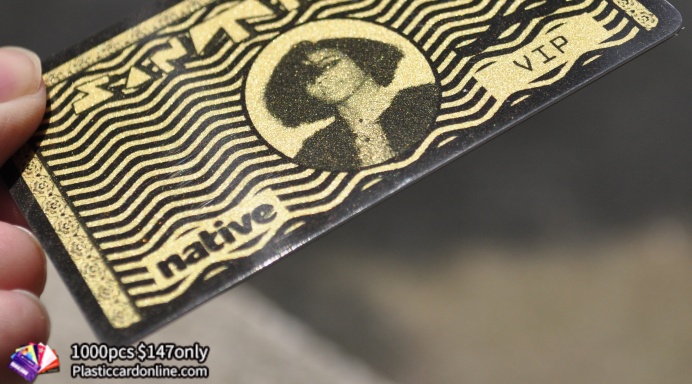 Metallic printing
Whether you're looking to include some style to your printed plastic card, it could be time to take into consideration integrating some custom printing completes to include that little something added-- assume place different colors, embossing, foil stamping, area varnish, and of program, metallic ink. Metallic ink card is unique with great reflective metallic printing bits that produce a sparkle and appeal you will not see in conventional inks. Silver and gold metallics are most typical, yet metallic printing likewise come in intense blues, dynamic purples, warm reds and burnished coppers.

Metalic ink card
Whether your looking for metallic ink card , include a pop of glimmer to your logo design and various other card locations. Metallic ink is excellent for gift cards, membership cards, loyalty cards and even more.Metallic prinitng not just look great, they will certainly additionally aid take your advertising and marketing products. Metallic foil stamp and metallic ink additionally looks sharp on matte black paper. All advantage from the unforeseen sparkle and glimmer of metallic printing.


Metallic ink card price: (Including shipping to USA, other countries please contact sales)
| | | | |
| --- | --- | --- | --- |
| Qantity / Unit Price | 1000 | 2000-4000 | 5000+ |
| Metallic ink card | $0.247 | Contact sales | Contact sales |
For large quantity or multiple custom options not sure about price
or any questions about options that is not listed, please ask for Quote or Contact
Our sales team will quote and take care of your order.
Custom plastic cards make your business stand out!


Order Now!
>> INSTANT QUOTE