Embossed plastic card
Embossed plastic card is one of the most popular options available for our customers.. This feature is the same that you will find on your credit card. It is a very popular feature with VIP and Membership cards. Card embossing improves the general perception of the card, developing a feeling of high quality and worth. Embossed information is effortlessly understandable with the human eye.
Embossed number
Plasticcardonline.com offer card embossing service for custom plastic cards. Raised numbers and letters, with or without tipping, this option can give your cards an attractive "credit card" look and feel. Card Embossing can be customized name, date, account number, sequential or random number. We can emboss in several sizes in unique number on each card. Embossing can be random or sequential number. The character size has 2 types:
| | |
| --- | --- |
| | |
| 16pt Credit card embossing | 12pt standard embossing |
16pt embossed number is same as credit card embossing, using NBS embossing machine, we can do 18 characters each line maximun including space.
12pt embossed number is standard embossing, we can do 26 characters each line maximun including space.
Tipping: Colored foil applied with heat over the raised characters, is available in gold or silver:
| | | |
| --- | --- | --- |
| | | |
| No tipping | Gold tipping | Silver tipping |
Card embossing features
Card embossing can not be vertical. And need leave at least 5mm to the card edge. Card embossing will affect otherside of the card so payattention if there is magstrip or signatue panel on the other side. Cards could just be embossed on one side. Unique personalities are restricted to:--/.," & ().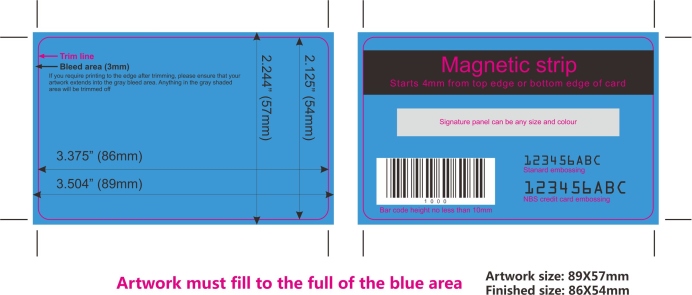 Embossed plastic card tempalte

Click here for more downloadable templates designed by plasticcardonline.com

If you need to emboss membership card number, valid date or clients name later by yourself,
we also provide desktop embossing machine:
Embossed card price: (Including shipping to USA, other countries please contact sales)
| | | | |
| --- | --- | --- | --- |
| Qantity / Unit Price | 1000 | 2000-4000 | 5000+ |
| Standard embossed card | $0.187 | Contact sales | Contact sales |
| Credit card embossed card | $0.207 | Contact sales | Contact sales |
For large quantity or multiple custom options not sure about price
or any questions about options that is not listed, please ask for Quote or Contact
Our sales team will quote and take care of your order.
Custom plastic cards make your business stand out!


Order Now!
>> INSTANT QUOTE