Barcode card
A barcode is an optical machine-readable representation of data. It is made up of parallel lines, different numbers and/or letters (this is depicted by the customer but generally is a number, the number can be sequential or random that provided in an excel file from the customer). Barcode card from plasticcardonline.com are often used for membership and loyalty schemes and help organization's record important data regarding customers.

Barcode cards usually has 2 types, thermal printed barcode card and spray printed bar code card. Thermal printed is durable and clear. Spray printed is cost effective and usually the only one option for special shape card. The most widely used barcode format is Code39 The code can be sequential number or random code. Barcode size: 10digitals 35X15mm, 8digitals 30X12mm,6digitals 25X12mm

How barcode cards works?
Barcode cards are scanned and read by optical scanners or cellphone otherwise knows as barcode readers, the lines on the cards contain data which a machine can read. The barcode scanner can be handheld or it can be built into a counter like at a supermarket. A software package will usually be present which enables the scanned information/data to be sent to a computer. If for example the barcode is a number, this can be linked to a customer and bring up customers information when it is scanned or it could be a system where points are added each time it is used.
Barcodes can be placed on our plastic cards in any location and any size. Please bear in mind not to make the area for the barcode too small as your scanner may have trouble recognizing a very small barcode. Quite often we have found that a white box around the barcode area helps the scanner to identify it as a barcode.
Bar code card for membership cards
Most plastic membership card is printed with a unique serial number barcode with or without human readable characters. When a customer purchases a gift card, the barcode is scanned or its human readable characters are keyed into a point of sale (POS) system. The point of sales system recognizes the gift card's unique serial number and prompts the cashier for a value to be assigned to it. For this example, the customer wishes to put $50.00 on the gift card. The cashier takes the customer's $50.00 and keys in this amount. The point of sales system then assigns this value to the gift cards serial number. The value of the gift card is not stored on the card but within the point of sale system.
How do I know what type of barcode my Point of Sales system needs? How can you ensure the barcode will work?
We have the ability to print many barcode formats onto our products. If you are not sure what type of barcode your system requires, please contact your point of sale system provider. They can assist you with which type of barcode will work and the necessary characters for your particular system. Sccording to our experiences C39 and C128 is accepted by most shop POS systems.
Please ask your point of sale (POS) system provider the following questions:
What barcode format or formats work best with your system?
Are there any specific characters or number of characters necessary to be used in a barcode serial number?
Once you get this information, please let us know and we will gladly email sample barcodes for you to test to ensure that they will work on your system.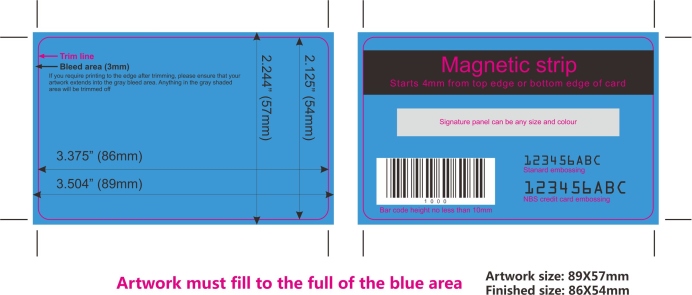 Barcode card tempalte

Click here for more downloadable templates designed by plasticcardonline.com


Barcode card price: (Including shipping to USA, other countries please contact sales)
| | | | |
| --- | --- | --- | --- |
| Qantity / Unit Price | 1000 | 2000-4000 | 5000+ |
| Spray barcode card | $0.187 | Contact sales | Contact sales |
| UV barcode card | $0.187 | Contact sales | Contact sales |
| Thermal barcode card | $0.207 | Contact sales | Contact sales |
For large quantity or multiple custom options not sure about price
or any questions about options that is not listed, please ask for Quote or Contact
Our sales team will quote and take care of your order.
Custom plastic cards make your business stand out!


Order Now!
>> INSTANT QUOTE