Black metal cards
There's a reason why some of the world's most prestigious and recognizable brands have started offering black metal cards to their customers, as they never fail to impress. When it comes to forming a brand image, it is important to stand out from the crowd and not blend into it. With our black metal business cards, your brand will never simply mesh in with the rest of your competitors, your customers will associate your brand with the word, "WOW"!
Black metal business cards
Our black metal business cards are truly exquisite. We chemically mill the perimeter of the card and cut away design elements with incredible precision. Next, a tough, matt black anodised coating is applied. We then laser etch the text and graphics into the surface, bringing your design to life. Our black metal cards are available in your choice of 200, 300 or 400 micron marine-grade steel.
| | |
| --- | --- |
| | |
| Matt Black Cards | Matt Black Brushed Cards |
The matt black stainless steel cards make their mark for anyone wanting to present their brand as being cutting edge and powerful. They are popular for VIP cards especially when made in a thicker metal. We recommend using less text or a simple design in a single color. This card offers a different texture to our matt black prism cards. In black, these steel cards look great with a cut thru or die cut type or logo. We may need to make slight amends to your type or logo to ensure certain letters or characters have enough support and are readable.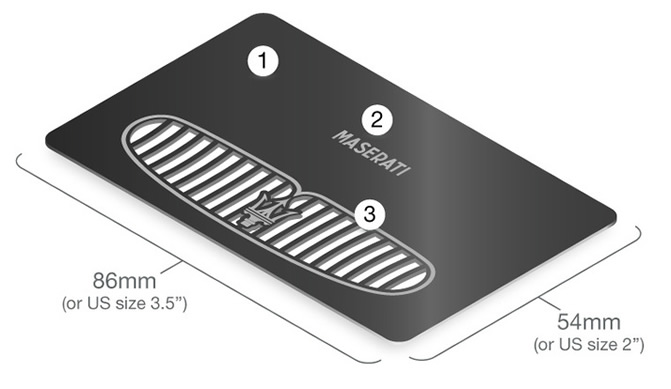 Text and graphics are chemically milled away from the card by first applying a photo-resistive film to the surface of the metal and exposing the steel to acid.

Once the surface of the stainless steel has been etched away the lighter core of the material is exposed, ensuring contrast and legibility.

Precision cut-throughs are achieved by etching into the same position on the front and back of the stainless steel, until the two areas meet, forming a hole.
If you are ordering one of our black metal cards, you will need to set up your metal card design files appropriately. File setup for these cards can be a complex process and should be completed by an experienced designer.


Design guide


Artwork templates

If you would like our artwork department to create customized metal business cards design,
please contact us. Design service is free of charge.
Black metal cards price:
Qantity / Price

100

200

500

Black metal cards
400micron thickness


$349

Black metal cards
Custom printing

Contact sales
For large quantity or multiple custom options not sure about price
or any questions about options that is not listed, please ask for Quote or Contact
Our sales team will quote and take care of your order.
Back or more related products: