Stainless steel business cards
Stainless steel business cardss are ideal for personal use or business who want to stand out from their competitors. The beauty of using stainless steel to produce metal business cards is because the posibilities for design. We can create custom shape steel business cards in fit your designs. We won't have any problem creating a classy business card that reflects your company.
Metal business cards
Metal business cards escalates your company to a high-end representation. We offer a more deluxe product than traditional paper business cards, and businesses with these luxury steel business cards tend to stand out in the market. Stainless steel business cardss can be glossy or matte. We can etch the card and make it meshed, as above photo or even print in full color. The opportunities for customization are endless with our metal business cards solution!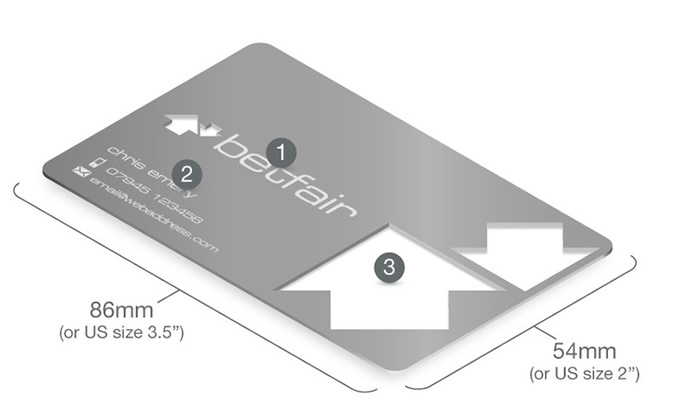 Text and logo are chemically milled off from the card by pre-applied hi-tech meterial to the metal plate and exposing the steel to acid.

Once the surface of the metal card has been etched away the lighter grey color from the inside of the metal stock can be seen, ensuring contrast and visibility.

Precision cut-throughs are done by etching process on the front and back of the metal business cards, until the two areas joint, we get a empty hole.
A+ GRADE STAINLESS STEEL

All of our metal business cards are made with A+ grade stainless steel. We can make sure the texture is always consistent and unblemished. Steel has memory, it will spring back to shape when flexed. And because its stainless steel, you can find any more hardwearing cards than metal cards.
CUTTING & ETCHING

Thanks to our hi-tech milling process, we can etch and cut the steel precisly. This enables patterns, perforations and grilles. Rather than printing, which can be rub away over time, we etch the text into the steel core. The lighter grey color of the steel is revealed providing contrast between the etched and unetched metal.
Steel business cards design
If you are ordering one of our metal business cards, you will need to set up your metal card design files appropriately. File setup for these cards can be a complex process and should be completed by an experienced designer.


Design guide


Artwork templates

If you would like our artwork department to create customized metal business cards design,
please contact us. Design service is free of charge.
Steel business cards price:
Qantity / Price

100

200

500

Stainless steel business cards
400micron thickness


$299

Stainless steel business cards
Custom printing

Contact sales
For large quantity or multiple custom options not sure about price
or any questions about options that is not listed, please ask for Quote or Contact
Our sales team will quote and take care of your order.
Back or more related products: